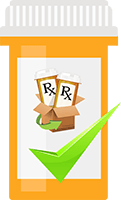 Today's Price is Guaranteed
No insurance required. You are only responsible for today's wholesale cost of your prescriptions and shipping. If the manufacturer increases the price tomorrow, you won't pay a penny more. No printing coupons or discount cards.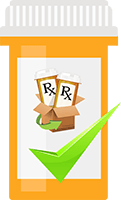 We Do All the Work
We will call your doctors, get new prescriptions good for up to one year, and ship your medications to your door.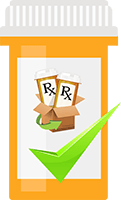 3 Day Delivery
Orders are discretely shipped with tracking & guaranteed 3-business day delivery.
Rousuvastatin Calcium 20mg
(Generic Version of Crestor)
90 DAY SUPPLY
Member Cost: $21.73
Retail Cost: $1,368.55

Sertraline HCI 50 mg
(Generic Version of Zoloft)
90 DAY SUPPLY
Member Cost: $6.15
Retail Cost: $415.45

Losartan Potassium 25 mg
(Generic Version of Cozaar)
90 DAY SUPPLY
Member Cost: $5.55
Retail Cost: $257.43


We are not an online pharmacy. However, we use our website to expedite the order process, you must still call the pharmacy to verify the order and pay for your prescription,

at our wholesale price

of course.
We only ship 60 or 90 day supply lengths from our licensed pharmacy.
You can speak to a pharmacist anytime during our business hours by calling the number in your guide.
You cannot use your current pharmacy for this program. MailMyPrescriptions.com is an exclusive members-only pharmacy service. We facilitate your prescription to ensure that our pricing is honored. Most pharmacies cannot honor pricing this low.
You do need a valid prescription, from a licensed physician in the United States to order your medication.
You don't need to send your prescription to us. We will contact your doctor for new prescriptions.
We only service customers residing in the United States.
We do not accept any insurance.
This Program is NOT an Rx Card. Our pricing is guaranteed. Our service will actually facilitate the fulfillment of your prescription drugs through one of the pharmacies in our network.
While typing the prescription in the drug name field, please selectd the drug name as it appears on your prescription from the drop down. You will then be able to complete the rest of the form.
All purchases are final. All payments are non-refundable.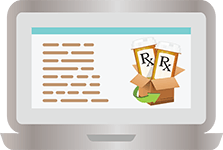 Sign up and activate your membership in under 60 seconds from the welcome email from MailMyPrescriptions.com which will give you your Pre-Activated ID.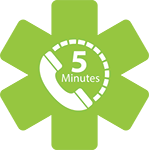 Order your prescriptions in as little as 5 minutes. Your doctor will be contacted and your prescriptions will be transferred. Pay for your prescription(s) at today's wholesale cost.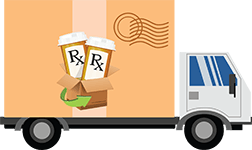 Your order will be shipped discretely and should arrive at your door anywhere in the country between 1-3 days.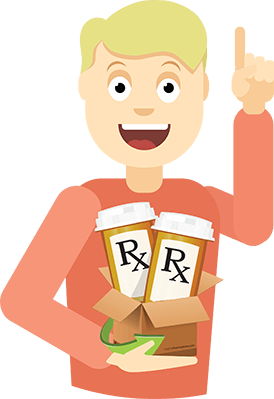 4
Your Prescriptions at Your Door!
Unlimited usage and all dependents are covered.
Nationwide coverage - the entire United States.

Note: You can also call in to activate your membership. You cannot place an order until your effective date listed in your welcome letter with your Benefit Boost ID card.
The Program is NOT an insurance plan, a discount medical plan ("DMPO"), a Medicare / Medicaid prescription drug plan, or a health insurance policy. The Program does NOT accept any type of insurance, including but not limited to Medicaid or Medicare, and CANNOT be combined with any type of insurance. The Program does NOT allow for auto-fill prescriptions. You shall be solely responsible for any and all applicable charges and taxes related to purchases made by you through the Program. You understand and agree that the Program is NOT a health insurance plan and is NOT intended as a substitute for insurance. The Program only provides you with access ("The Subscription") to our exclusive network of participating pharmacies, each of which is a "Network Pharmacy", which dispenses drugs at prices described in the Drug Pricing section of the Terms of Use located at https://www.mailmyprescriptions.com/terms-of-use. The purpose of the Program is to provide you with transparency with regards to your prescription drug costs by eliminating mark-ups and hidden fees.
Please review the MailMyPrescriptions.com FULL Terms of Use, HIPAA Notice and Privacy Practices Notice by clicking on the links below.